Do you want to grow sustainably? Choose Inclusion.
Why do men (still) earn more than women? Why does Eveline find a job faster than Fatima? Why does Gerrit (61) always lose out to Thomas or Sanne (32)? Or is Mădălina not being offered her assessment in her native language? With DE&I policies gaining traction, these practices still hurt our eyes.
"Inclusion creates a hospitable climate in which differences are not approached defensively but respectfully, promising, and most educational."
Diversity, where do things stand?
In 2018, McKinsey published a global study on Diversity in "the pipeline". The image shows how Diversity is divided over the different layers of the organizations studied (listed organizations in G20). And what we already know is expressed in these figures: the higher up in the organization, the less diverse it becomes. And yes, according to this study, this also applies to Europe.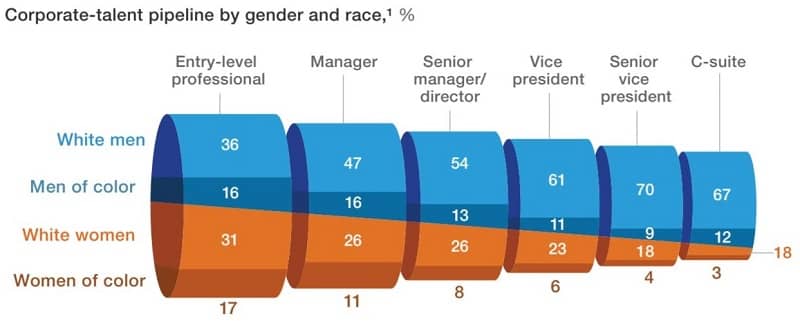 "D, E and I stand for Diversity, Equity, and Inclusion. These concepts are stackable. D and E are the foundation of Inclusion."
Diversity, what does it mean?
DE&I stands for Diversity, Equity, and Inclusion; they are three different terms and cannot be arbitrarily used interchangeably:
Diversity
is about all conceivable ways in which (groups of) people differ from each other. For example think of, racial, ethnic, disability, gender, religion, knowledge, cognitive Diversity, and combinations. And not only from observable differences but especially from perceived differences.
Equity
is mainly about progress, prospects, opportunities, access to networks, and information for all people. Within organizations, rules, systems, and processes must be equal and fair. Leaders are permanently alert to equality for everyone.
Inclusion
creates a hospitable climate where everyone feels welcome and differences are not approached defensively but respectfully, promising, and most educational.
"DE&I leads to a cultural change. Then why would you start?"
Diversity, Equity, and Inclusion reinforce each other.
Diversity, Equity, and Inclusion are not the same. They reinforce each other. Diversity in your organization does not mean that everyone feels at home and gets equal opportunities to develop. A diverse organization is not necessarily inclusive, while it is usually okay with Diversity in an inclusive organization.
In general, organizations find it easier to start with Diversity. Just by (visually) scanning an organization, you can map and monitor ethnic, racial, and gender diversity. Diversity is step 1, and justice is step 2 to achieve an inclusive organization.
In an inclusive organization, where everyone feels happy, rules, systems, and processes are tested for justice and equality (Equity). Such an assessment is very confronting because you will find out that the current systems and processes are not fair.
Testing for justice requires leadership and a willingness to change. If you want your organization to migrate into an inclusive organization, you accept cultural change.
"Organizations with much Diversity should build a collective memory."
Diversity and Inclusion, why would you start?
Reason 1: Diversity is socially desirable
I'll start with a good reason. This reason is extrinsically driven and, therefore, not as strong as reason two for an organization. Because society increasingly embraces DE&I as the "norm", you don't want to be missing out. Of course, the fewer people are excluded, the more people will improve their prospects; that's great. It's a no-brainer on a macro level.
Still, it remains a dilemma for the hiring manager, who has to choose between Gerrit or Sanne. The closer it gets to us, the more courageous we need to be and the more we need to unlearn old habits. Or the other way around: behavioral change becomes more accessible if it benefits one's interests. And that makes implementing DE&I a challenging mission from a socially desirable point of view alone.
Reason 2: it's good for business
An excellent reason, it provides support and anchoring and is intrinsically driven. DE&I is demonstrably good for the performance of your organization. Search for business case inclusion, and many articles will appear on your screen, including precise analyzes and positive connections between Diversity and business performance. The most common effects of Inclusion are:
drives innovation, essential to compete;

improves empathy towards customers and the labor market;

increases the pool to recruit talent;

freshens up the organizational culture, in terms of dynamics and sharpness;

makes employees feel good.
"Storytelling, one of the most universal human experiences, gives us a rare chance to look through new lenses." – Havard Business Review
DE&I requires patience and determination
An inclusive organization has to cultivate. People have to grow together. An organization with a great diversity of people needs to build up a collective memory. That means gaining insight into each other, listening to each other's stories, creating awareness, naming obstacles, and responding to each other. To build a collective memory, you need time and respect. In addition, leaders must have already begun to dismantle systems of discrimination and subordination.
Leaders must persevere in this process. Only then can you build an organization connected to society, stimulate innovation, move faster, keep on surprising customers, and generate better profits than before.
Questions?
Do you want to know more about Diversity and Inclusion?