In-house assessment at Saint Gobain Construction Products
In-house assessment portal in practise
Rian Mourik is HR director at Saint Gobain Construction Products B.V., with responsibility for a number of sites, including Etten-Leur. In the past few years, she has gained considerable experience in using various psychometric tools.
Mid-2017, she opted for Starcheck in-house services: a combination of Hrorganizer.com cloud services and the psychometric expertise of Starcheck.
"Starcheck gives me around 80 datapoints per candidate. This is much more useful than a written report from a psychologist." – Rian Mourik, HR director
Choosing digital HR tooling
Rian Mourik is a keen supporter of online tools. According to her, online assessment tools offer important advantages. Rian: "They offer low costs; they're efficient and you don't have to wait. You don't have any hassle with psychological advisors and recruitment agencies. The data is in your possession and you control the timing. There's no wasting time in discussions with external parties. And because the costs are lower, you use the tools more often. This improves the quality and usefulness of your HR data."
In-house assessment: more for less
Outsourcing is no longer an option for Rian. She explains why: "Those written reports contain a lot of text and no comparable or clear KPIs. They also cost around €1,600 – €1,700 plus an employee who's away for an entire day. By spending 90% less, I now receive around 80 psychometric datapoints, have a better overview and it's easier to compare candidates." So, more for less.
"Online assessments enable you to make accurate decisions. We notice that some employees who are performing well because they're working in their comfort-zone, have poor test results. This is quite a wake-up call. Because suddenly you see the possible risks of a promotion." – Rian Mourik, HR Director
How does Saint Gobain Construction Products B.V. use the in-house assessment portal?
Saint Gobain Construction Products B.V. uses the assessment portal in 3 different situations:
The portal supports the selection process during recruitment
The assessment portal helps choose between different careers when an employee has career-related questions
During a coaching process, the assessment portal offers all the necessary data for a good briefing at the start of coaching, and more in-depth information during the process
Saint Gobain Construction Products B.V. pays special attention to coaching talent. Rian: "This is meant for employees who we want to encourage in their career with us, by giving them a boost. All managers take 1 or 2 people under their wing. These are people they're not in charge of. We offer these employees an extensive online assessment programme.
The level of the online assessment programme is agreed with the manager. The assessment provides an extensive set of data that we use for briefing and for more depth. As a result, the coaching process at Saint Gobain Construction Products B.V. is regarded as being very valuable and credible. Mainly by the employee themself."
The coaching process at Saint Gobain Construction Products B.V. focusses exclusively on developable competencies. The assessment portal shows exactly which these are. The data from the online assessment is used to brief managers in detail about coaching processes. The coaching meetings become more interactive because real-life situations can be compared to the data from the online assessment. Rian adds: "The combination of the competencies report with the test score report enables us to highlight a competency that needs to be developed, and show the underlying factors. This increases the employee's confidence in the value and credibility of the coaching discussion."
"Innovation for free is an interesting option for executives" – Rian Mourik, HR Director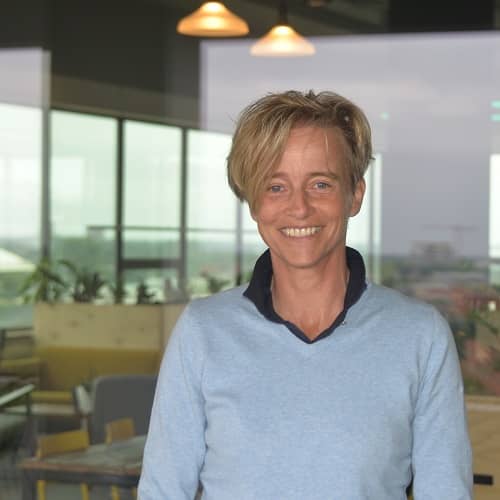 In-house assessment: How do you organize it?
Saying goodbye to agencies and switching to online tooling was a no-brainer for Rian:
"The coaching process has enabled everyone to see that Starcheck is offering a good tool. This has made the assessment portal a widely accepted instrument. In the end, everything is about scores and results.
This assessment portal enabled me to show that costs could be significantly reduced while at the same time the quality of the data would lead to good decisions regarding talent. So, we were able to innovate at a lower cost."
In-house assessment has now become an accepted concept at Saint Gobain Construction Products B.V.. From the start, Rian spent a lot of attention on the acceptance process.
First and foremost, by continuously showing that it works and that it delivers good results!
Secondly, by teaching managers how to work with test score reports and competency reports. Rian ensures the assessment reports being used and interpreted correctly.
Support with in-house assessment portal
In some cases, Rian would like to go into more in-depth. That's when she calls a Starcheck psychologist. That is a real added value. Rian: "This is mainly regarding a specific case."
"A quick reflection. For example, regarding how a competency is interpreted, or specific connections between datapoints. In such cases, Starcheck's support is easy to reach, and helpful."