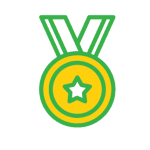 Who should you put in your first team?
What impact will a reorganization have on your team? Do you need to swop positions around the field? Who should move to the substitutes' bench? Are there any gaps in the formation? Is everyone ready for a new challenge, or do you need to change your training methods?
Starcheck helps teams and organizations of all sizes in designing and implementing assessments that will give you the insight you need in order to put together the winning formation of your new team following organizational change. We take into account any internal resistance as well as the considerations of the Works Council. If required, we can manage the entire project and provide you with comprehensive management information throughout the process.