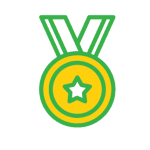 "Float like a butterfly, sting like a bee" Muhammad Ali
If you don't keep moving, you stagnate. This simple saying applies to organizations and individuals alike. In a competitive market, stagnation is not an option. Because standing still means going backwards, to use another aphorism.
Which of your employees have the will and the ability to stay mobile, take on new challenges, perform under pressure, learn quickly, share what they have learnt and apply this in constantly new situations?
Our Learning Agility Assessment incorporates online and offline tools to enable you to see this. Quickly!