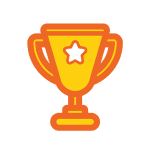 Who will take your company forward?
Leadership is a quality you can recognize long before it blossoms. Who are the high potentials in your organization? Starcheck uses a renowned model from Harvard Business Review to identify young talent and future leaders.
An analysis of more than 20,000 executives shows that leadership potential develops around 6 skills, each with 2 essential competences. We measure these online using scientifically-validated psychometric tools. These results are tested in an in-depth interview. This comprehensive approach to assessing leadership potential ensure you know who will take your company forward, and how.